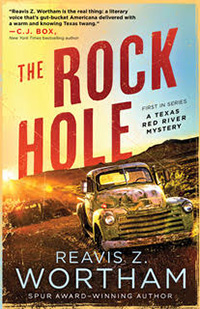 The first award-winning novel in the Red River series, The Rock Hole, was originally released in 2011. With the merger of Poisoned Pen Press and Sourcebooks, this debut novel re-releases on October 6, 2020, with a new cover and foreword by legendary Texas author Joe R. Lansdale, creator of the Hap and Leonard series. He also wrote Cold In July, which became the movie of the same name starring Sam Shepard and Don Johnson.
Chosen by Kirkus as one of the 12 best novels of 2011: "An accomplished first novel about life and murder in a small Texas town… Wortham tells a story of grace under pressure, of what happens when a deranged and vicious predator decides that they're his promised prey… a fast and furious climax, written to the hilt, harrowing in its unpredictability. Not just scary but funny too, as Wortham nails time and place in a sure-handed, captivating way. There's a lot of good stuff in this unpretentious gem. Don't miss it."
—Kirkus Reviews
Coming in January 2021: Laying Bones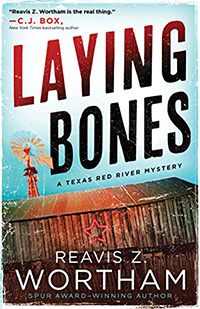 It's January, 1969, in the small rural community of Center Springs, Texas. Constable Ned Parker is looking into the seemingly accidental death of his nephew R.B., who was found in his overturned pickup near Sanders Creek bridge. At first it appears that R.B. drowned in the shallow water, but something doesn't add up for Ned, who begins turning over stones in search of what really happened the night R.B. died.
Eventually, the investigation leads Ned back to the Starlite Club, a dangerous honky-tonk recently constructed in a no-man's land on the Lone Star side of the Red River. Although his investigation uncovers suspicious characters, drugs, and gambling, it's the series of murders that eliminated any potential witnesses to what happened to R.B. on that cold January night, that's the most troubling.
As he works his way through the cover-up, which leads all the way to the coroner's office, Ned finds himself involved in a high-stakes game of consequences with no good end in sight. Are the good citizens of Center Springs conspiring against Constable Parker in his search for the truth?
Pre-order Laying Bones at Bookshop.org, The Poisoned Pen, Amazon, BookPeople, Barnes & Noble