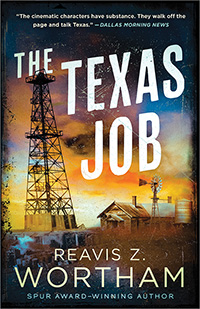 For an author, it's always exciting to read reviews of a new novel. My upcoming Texas Red River historical mystery thriller, The Texas Job (February 15, 2022), seems to be a hit with the Big Guys. Publishers Weekly just posted this about this prequel:
"Set in 1931, this well-crafted crime novel features Texas Ranger Tom Bell, a supporting character in The Right Side of Wrong, Wortham's third Red River mystery. Authentic settings and richly drawn characters complement Wortham's striking depiction of the Texas oil boom and the unavoidable corruption, greed, and anarchy that accompany it. Hopefully, Bell will be back in a sequel."
Amazon Apple Books Barnes & Noble BookPeople Bookshop.org The Poisoned Pen
More praise for The Texas Job:
"Reviewers taking on a Wortham novel will make heavy use of cowboy-movie images. (As the story unfolds) the unkillable Ranger goes from hero to superhero, 'a man made of hard bone and corded wire.' None of this will put off Wortham's admirers, who can't get enough of 'the sweet natural cologne of leather.'"
—Booklist
"Readers who've already seen Tom grown old in earlier installments of Wortham's Texas Red River series will be rubbing their hands in eager anticipation of what happens next. A… powerful tale of a solitary hero confronting a web of conspirators against hopeless odds."
—Kirkus Reviews
"The action starts out strong, moves at a fast pace, and the suspense continues to build throughout. An engaging and action-filled crime thriller in a historical setting that kept me turning the pages."
—Mystery Scene Magazine 
---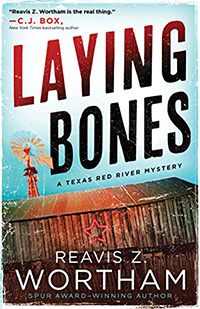 Laying Bones, the eighth Red River Mystery, was released in January 2021.
"Captivating. Wortham adroitly balances richly nuanced human drama with two-fisted action, and displays a knack for the striking phrase ('R.B. was the best drunk driver in the county, and I don't believe he run off in here on his own'). This entry is sure to win the author new fans."
—Publishers Weekly
"Well-drawn characters and clever blending of light and dark kept this reader thinking of Ray Bradbury's Something Wicked This Way Comes, and Harper Lee's To Kill a Mockingbird."
—Mystery Scene Magazine
Amazon Apple Books Barnes & Noble BookPeople Bookshop.org The Poisoned Pen