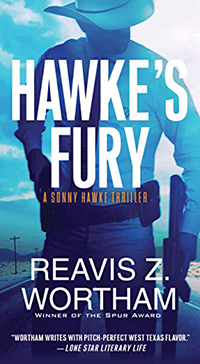 The fourth novel in the Texas Ranger Sonny Hawke contemporary western series, Hawke's Fury, is available now.
Border patrol agents are being ambushed along the Big Bend region of West Texas, a notorious drug corridor running east and west across the Lone Star State. They're not the only targets. A film production depicting human trafficking in the area has been attacked by a brutal drug cartel.
Into this lawless frontier steps Texas Ranger Sonny Hawke, ready and willing to dispense his own brand of justice. It's an all-out war with the thinnest line separating the good from the bad. Sonny knows the only way out is to aim straight and stand your ground…
Purchase the book from Bookshop.org, Amazon, Apple Books, Barnes & Noble, Books-A-Million, BookPeople, IndieBound, Kobo, Poisoned Pen
A fourth-generation Texan, Wortham is also the author of the historical Red River mystery series set in rural Northeast Texas in the 1960s. Published by Poisoned Pen Press/Sourcebooks, there are seven novels in this series with number eight, Laying Bones, set to release in January 2021. More information about Laying Bones is available on the Coming Soon page.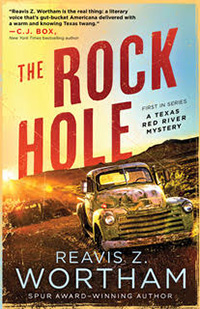 His first award-winning novel in the Red River series, The Rock Hole, was originally released in 2011. With the merger of Poisoned Pen Press and Sourcebooks, this debut novel re-releases in October, 2020, with a fresh, updated cover and an introduction by legendary Texas author, Joe R. Lansdale.
"Wortham is a masterful and entertaining storyteller… equal parts Joe R. Lansdale and Harper Lee, with a touch of Elmore Leonard."
—Ellery Queen's Mystery Magazine
"The more I read of Reavis Wortham's books, the more impressed I am by his abilities as a writer… He's very good at what he does, and his books are well worth reading."
—Reviewing the Evidence
"Wortham nails time and place in a sure-handed, captivating way."
—Kirkus Reviews on The Rock Hole