Reavis Z. Wortham won the 2019 Spur Award for Hawke's War, the second book in the Sonny Hawke contemporary western series, in the Best Mass Market Paperback Novel category. The Spur Awards are presented annually by the Western Writers of America, WWA. The award is given "for works whose inspiration, image, and literary excellence best represent the reality and spirit of the American West." The newest novel in the series, Hawke's Target, was released on June 25.
His latest Red River Mystery, Gold Dust, was named as one of True West Magazine's Top Five 20th-21st Century Western Mystery Fiction novels in their "Best of the West—2019" feature.
Hawke's Target
Available Now
Judge. Jury. Executioner. One man is taking the law into his own hands. His targets are criminals who slipped through the justice system. From California to Texas, this relentless avenger hunts down the unpunished and sentences them to death.
But now he's on Sonny Hawke's turf. A Texas Ranger committed to his job, Hawke will not abide vigilante justice—especially when innocents are also in the line of fire. The trail of bodies stretches across the Lone Star State to the most savage clan East Texas has ever seen. And Hawke is the only one who can stop them…
Buy Hawke's Target at Amazon, Barnes & Noble, BookPeople, Books-A-Million, IndieBound, iTunes, Kensington Books, Kobo or The Poisoned Pen, and review it on Goodreads!
Gold Dust: A Red River Mystery
Available Now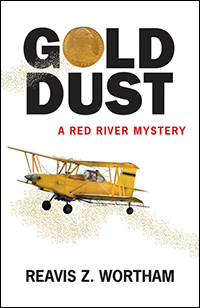 As the 1960s draw to a close, the rural northeast Texas community of Center Springs is visited by two nondescript government men in dark suits and shades. They say their assignment is to test weather currents and patterns, but that's a lie. Their delivery of a mysterious microscopic payload called Gold Dust from a hired crop duster coincides with 14-year-old Pepper Parker's discovery of an ancient gold coin in her dad's possession. Her adolescent trick played on a greedy adult results in the only gold rush in north Texas history. Add in modern-day cattle rustlers and murderers, and Center Springs is once again the bull's-eye in a deadly target.
The biological agent deemed benign by the CIA has unexpected repercussions, putting Pepper's near twin cousin, Top, at death's door. The boy's crisis sends their grandfather, Constable Ned Parker, to Washington D.C. to exact personal justice in our nation's capital, joined by a man Ned left behind in Mexico and had presumed dead. The CIA agents who operate on the dark side of the U.S. government find they're no match for men who know they're right and won't stop. Especially two old country boys raised on shotguns.
But there's more. Lots more. Top Parker thought only he had what had become known as a Poisoned Gift, but Ned suffers his own form of a family curse he must deploy. Plus there are many trails to follow as the lawmen desperately work to put an end to murder and government experimentation that extends from their tiny Texas town to Austin and, ultimately, to Washington, D.C. Traitors, cattle rustlers, murderers, rural crime families, grave robbers, CIA turncoats, and gold-hungry prospectors pursue agendas that all, in a sense, revolve around the center of this little vortex called Center Springs.
Gold Dust seems to be fiction, but the truth is, it has already happened.
"Center Springs must deal with everything from cattle rustlers to a biological agent that the CIA said was safe, but were wrong, and a real fight between the government and those who actually know what the term 'gunslinger' means. Murder is everywhere and readers will never forget this Poisoned Gift once they see it in action. Wortham has created yet another Red River Mystery that hits home in a big way, making all the more terrifying."
—Suspense Magazine
"Richly enjoyable… reads like a stranger-than-strange collaboration between Lee Child, handling the assault on the CIA with baleful directness, and Steven F. Havill, genially reporting on the regulars back home."
—Kirkus Reviews
"It's a pleasure to watch [Constable Ned Parker and Texas Ranger Tom Bell] deal with orneriness as well as just plain evil. Readers nostalgic for this period will find plenty to like."
—Publishers Weekly
"Reading the seventh Red River Mystery is like coming home after a vacation: we're reuniting with old friends, and returning to a comfortable place. Wortham's writing style is easygoing, relying on natural-sounding dialogue and vivid descriptions to give us the feeling that this story could well have taken place. Another fine entry in a mystery series that deserves more attention."
—Booklist