Author of the Red River Mystery series and the new Sonny Hawke Thriller series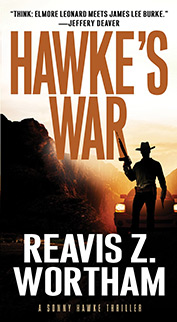 Reavis Z. Wortham retired in 2011 and now works harder than before as the author of the critically acclaimed Red River historical mystery series and the Sonny Hawke contemporary thriller series. Hawke's War, the sequel to Hawke's Prey, will be released on May 29, 2018.
The serene beauty of West Texas's Big Bend National Park is shattered when four hikers are brutally ambushed by a sniper. Only one survives to report the murders. When investigators come up with nothing, they're left wondering if this is a single incident—or the beginning of a rampage. One week later, Texas Ranger Sonny Hawke drives his 3500 Dodge Dually into the park, determined to unearth the truth…
Before he knows it, he's in the same sniper's crosshairs. The drug and human smuggling cartel known as the Coyotes Rabiosos—Rabid Coyotes—have lured him to remote backcountry, looking for payback for an old grudge. Wounded and stranded in the harsh desert terrain, hunted, and outnumbered, Sonny is about to become the target of an even more dangerous enemy—one whose thirst for revenge could incite an international conflict far beyond the U.S.-Mexican border…
"Introduces readers to a dedicated and seasoned lawman whose complexity and humanity make him an ideal foil to the worst the world has to offer… Wortham has crafted a winning hero with plenty of skills and staying power who is sure to earn the loyalty of readers who miss Elmore Leonard's western lawmen."
—RT Book Reviews on Hawke's Prey
Coming in September 2018:
Gold Dust, the latest in the Red River Mystery Series
Reavis is the Magna Cum Murder Guest of Honor!
Reavis Z. Wortham is honored to announce that he has been chosen as the Guest of Honor for the 24th Magna cum Murder Crime Writing Festival, scheduled for October 19-21, 2018, in downtown Indianapolis.
In its 24th year, Magna's reputation has spread globally since its association with CRIMEFEST, one of Great Britain's most highly respected crime writing conferences. Reavis joins a list of highly respected authors who have served as the Guest of Honor, including Donald E. Westlake, Mary Higgins Clark, John Gilstrap, Harlan Coben, Jeffery Deaver, Sue Grafton, and Lawrence Block.
Reavis will be joined by the International Guest of Honor, Peter Lovesey, one of Great Britain's premier crime novelists. Make your reservations now for this fantastic event and join Reavis in this celebration of writers and fans.