Now a two-time winner, Reavis Z. Wortham is the recipient of the 2020 Spur Award for Hawke's Target, the third book in the Sonny Hawke contemporary western series, in the Best Mass Market Paperback Novel category. This is the second consecutive year Wortham has received this prestigious award, which is presented annually by the Western Writers of America, WWA. The award is given "for works whose inspiration, image, and literary excellence best represent the reality and spirit of the American West."
Other Spur recipients include Larry McMurtry, C.J. Box, Johnny Boggs, and Tony Hillerman.
Hawke's Target is Wortham's third novel in the Texas Ranger Sonny Hawke contemporary western series. Hawke's War, his second novel in the series published by Kensington Press under the Pinnacle imprint, won this prestigious award in 2019. Set in the rugged Big Bend region of the Lone Star State, this high-octane series integrates action, history, and contemporary issues to set itself apart.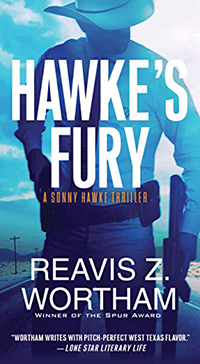 Fourth in the series, Hawke's Fury, releases in May, 2020.
Pre-order the book from Bookshop.org, Amazon, Apple Books, Barnes & Noble, Books-A-Million, IndieBound, Kobo, Poisoned Pen
Since 1953 the WWA Spur Awards have honored the best in Western fiction, nonfiction, poetry, song, and film scripting. These awards are presented each year when WWA holds its annual convention somewhere on the American Frontier. Members, agents, publishers, editors, and more gather together to talk shop, learn, teach, make connections, renew friendships, and listen to music. The 67th WWA Convention will be held in Rapid City, South Dakota, September 3-7, 2020. This award is distinctive, with both author and publisher receiving a hand-crafted Spur.
A fourth-generation Texan, Wortham is also the author of the historical Red River mystery series set in rural Northeast Texas in the 1960s. Published by Poisoned Pen Press/Sourcebooks, there are seven novels in this series with number eight, Laying Bones, set to release in January 2021.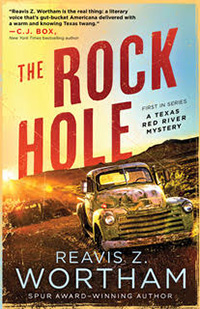 His first award-winning novel in the Red River series, The Rock Hole, was originally released in 2011. With the merger of Poisoned Pen Press and Sourcebooks, this debut novel re-releases in October, 2020, with a fresh, updated cover and an introduction by legendary Texas author, Joe R. Lansdale.
Laying Bones: A Red River Mystery
Coming in January 2021
Stay tuned for more information about the latest book in the Red River series!
"Wortham is a masterful and entertaining storyteller… equal parts Joe R. Lansdale and Harper Lee, with a touch of Elmore Leonard."
—Ellery Queen's Mystery Magazine
"The more I read of Reavis Wortham's books, the more impressed I am by his abilities as a writer… He's very good at what he does, and his books are well worth reading."
—Reviewing the Evidence
"Wortham nails time and place in a sure-handed, captivating way."
—Kirkus Reviews on The Rock Hole