Author of the Red River Mystery series and the Sonny Hawke Thriller series
Watch Reavis discuss his two series on WFAA's "Good Morning Texas" on Aug. 29:

Gold Dust: A Red River Mystery
Available Now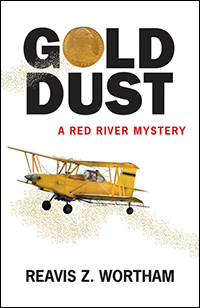 As the 1960s draw to a close, the rural northeast Texas community of Center Springs is visited by two nondescript government men in dark suits and shades. They say their assignment is to test weather currents and patterns, but that's a lie. Their delivery of a mysterious microscopic payload called Gold Dust from a hired crop duster coincides with 14-year-old Pepper Parker's discovery of an ancient gold coin in her dad's possession. Her adolescent trick played on a greedy adult results in the only gold rush in north Texas history. Add in modern-day cattle rustlers and murderers, and Center Springs is once again the bull's-eye in a deadly target.
The biological agent deemed benign by the CIA has unexpected repercussions, putting Pepper's near twin cousin, Top, at death's door. The boy's crisis sends their grandfather, Constable Ned Parker, to Washington D.C. to exact personal justice in our nation's capital, joined by a man Ned left behind in Mexico and had presumed dead. The CIA agents who operate on the dark side of the U.S. government find they're no match for men who know they're right and won't stop. Especially two old country boys raised on shotguns.
But there's more. Lots more. Top Parker thought only he had what had become known as a Poisoned Gift, but Ned suffers his own form of a family curse he must deploy. Plus there are many trails to follow as the lawmen desperately work to put an end to murder and government experimentation that extends from their tiny Texas town to Austin and, ultimately, to Washington, D.C. Traitors, cattle rustlers, murderers, rural crime families, grave robbers, CIA turncoats, and gold-hungry prospectors pursue agendas that all, in a sense, revolve around the center of this little vortex called Center Springs.
Gold Dust seems to be fiction, but the truth is, it has already happened.
"Center Springs must deal with everything from cattle rustlers to a biological agent that the CIA said was safe, but were wrong, and a real fight between the government and those who actually know what the term 'gunslinger' means. Murder is everywhere and readers will never forget this Poisoned Gift once they see it in action. Wortham has created yet another Red River Mystery that hits home in a big way, making all the more terrifying."
—Suspense Magazine
"Richly enjoyable… reads like a stranger-than-strange collaboration between Lee Child, handling the assault on the CIA with baleful directness, and Steven F. Havill, genially reporting on the regulars back home."
—Kirkus Reviews
"It's a pleasure to watch [Constable Ned Parker and Texas Ranger Tom Bell] deal with orneriness as well as just plain evil. Readers nostalgic for this period will find plenty to like."
—Publishers Weekly
"Reading the seventh Red River Mystery is like coming home after a vacation: we're reuniting with old friends, and returning to a comfortable place. Wortham's writing style is easygoing, relying on natural-sounding dialogue and vivid descriptions to give us the feeling that this story could well have taken place. Another fine entry in a mystery series that deserves more attention."
—Booklist
Hawke's War
Available Now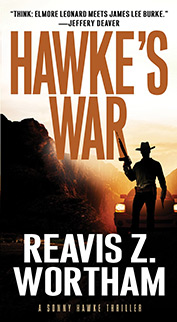 The serene beauty of West Texas's Big Bend National Park is shattered when four hikers are brutally ambushed by a sniper. Only one survives to report the murders. When investigators come up with nothing, they're left wondering if this is a single incident—or the beginning of a rampage. One week later, Texas Ranger Sonny Hawke drives his 3500 Dodge Dually into the park, determined to unearth the truth…
Before he knows it, he's in the same sniper's crosshairs. The drug and human smuggling cartel known as the Coyotes Rabiosos—Rabid Coyotes—have lured him to remote backcountry, looking for payback for an old grudge. Wounded and stranded in the harsh desert terrain, hunted, and outnumbered, Sonny is about to become the target of an even more dangerous enemy—one whose thirst for revenge could incite an international conflict far beyond the U.S.-Mexican border…
"Although Wortham's Texas Ranger Sonny Hawke deals with modern-day security threats and international tensions, his adventures have the feel of the Old West about them, from the protagonists' eschewing of technology to the remote and remorseless desert setting. The result is a book that will appeal to both fans of police procedurals and those with a fondness for the self-reliant lawmen of old. Hawke's narrative voice is intriguing and insightful… Fans of the series will feel right at home here, and new readers should have little difficulty following this fast-paced story."
—RT Book Reviews 
"This elegant thriller that reads like a modern-day Western conjures memories of gunfighters of lore, a tradition Hawke proudly holds up while riding the ranges of Texas's Big Bend National Park… Wortham hits the bull's-eye dead center in this tale worthy of Louis L'Amour and James Lee Burke. Once of the best thrillers I've read this year, featuring emotional landscapes as sprawling as the physical ones."
—The Providence Sunday Journal
"Wortham writes well in describing the forbidding landscape and the difficulties of those trying to survive in it, not easy even when people aren't trying to kill you.  Readers who like action-packed thrillers that leave a lot of bodies should find Hawke's War to their liking."
—PCA Mystery & Detective Fiction Reading List
Reavis is the Magna Cum Murder Guest of Honor!
Reavis Z. Wortham is honored to announce that he has been chosen as the Guest of Honor for the 24th Magna cum Murder Crime Writing Festival, scheduled for October 19-21, 2018, in downtown Indianapolis.
In its 24th year, Magna's reputation has spread globally since its association with CRIMEFEST, one of Great Britain's most highly respected crime writing conferences. Reavis joins a list of highly respected authors who have served as the Guest of Honor, including Donald E. Westlake, Mary Higgins Clark, John Gilstrap, Harlan Coben, Jeffery Deaver, Sue Grafton, and Lawrence Block.
Reavis will be joined by the International Guest of Honor, Peter Lovesey, one of Great Britain's premier crime novelists. Make your reservations now for this fantastic event and join Reavis in this celebration of writers and fans.