2013 (Poisoned Pen Press)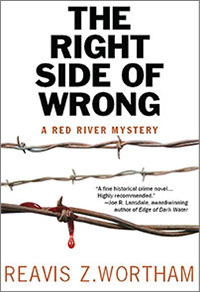 Burrows ended as 1965 drew to a close with Constable Cody Parker's frightening precognition of gathering storm clouds for the tight-knit Parker family from Center Springs, Texas. The dreams proved accurate. Cody is ambushed and nearly killed on a lonely country road during an unusually heavy snowfall. With that attack, the locals begin to worry that The Skinner, from The Rock Hole, has returned.
Constable Ned Parker struggles to connect a seemingly unrelated series of murders as his nephew recovers. As the summer of 1966 approaches, rock and roll evolves to reflect the increasing unrest in this country, and the people of northeast Texas wonder why their once peaceful community has suddenly become a dangerous place to live.
Ned's pre-teen grandchildren, Top and Pepper, are underfoot at every turn. The two lawmen, along with the deputy John Washington, cross paths with many colorful characters originally introduced in Wortham's acclaimed Red River series: cranky old Judge O.C. Rains, the jittery little farmer Isaac Reader, and the Wilson boys Ty Cobb and Jimmy Foxx.
And then there's the arrival of the mysterious tough old man named Tom Bell.
When Cody follows his main suspect across the Rio Grande and into Mexico, Ned understands that to save his nephew, he will have to cross more than a river, he will have to cross over to the Right Side of Wrong.
Humor, suspense, horror, precognition, and life in the tumultuous 60s are examined with an unflinching eye by the author of the Red River series.
"A sleeper that deserves wider attention."
—The New York Times
"Wortham's third entry in his addictive Texas procedural set in the 1960s is a deceptively meandering tale of family and country life bookended by a dramatic opening and conclusion. C.J. Box fans would like this title."
—The Library Journal (starred review)
Amazon Apple Books Audible Barnes & Noble BookPeople Bookshop.org The Poisoned Pen