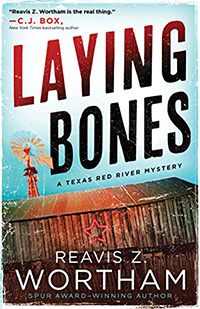 Laying Bones (January 2021, Poisoned Pen Press)
It's January, 1969, in the small rural community of Center Springs, Texas. Constable Ned Parker is looking into the seemingly accidental death of his nephew R.B., who was found in his overturned pickup near Sanders Creek bridge. At first it appears that R.B. drowned in the shallow water, but something doesn't add up for Ned, who begins turning over stones in search of what really happened the night R.B. died.
Eventually, the investigation leads Ned back to the Starlite Club, a dangerous honky-tonk recently constructed in a no-man's land on the Lone Star side of the Red River. Although his investigation uncovers suspicious characters, drugs, and gambling, it's the series of murders that eliminated any potential witnesses to what happened to R.B. on that cold January night, that's the most troubling.
As he works his way through the cover-up, which leads all the way to the coroner's office, Ned finds himself involved in a high-stakes game of consequences with no good end in sight. Are the good citizens of Center Springs conspiring against Constable Parker in his search for the truth?
"Captivating. Wortham adroitly balances richly nuanced human drama with two-fisted action, and displays a knack for the striking phrase ('R.B. was the best drunk driver in the county, and I don't believe he run off in here on his own'). This entry is sure to win the author new fans."
—Publishers Weekly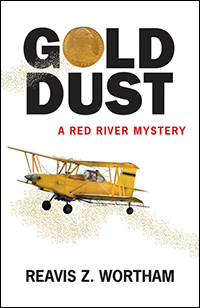 Gold Dust (2018, Poisoned Pen Press)
As the 1960s draw to a close, the rural northeast Texas community of Center Springs is visited by two nondescript government men in dark suits and shades. They say their assignment is to test weather currents and patterns, but that's a lie. Their delivery of a mysterious microscopic payload called Gold Dust from a hired crop duster coincides with 14-year-old Pepper Parker's discovery of an ancient gold coin in her dad's possession. Her adolescent trick played on a greedy adult results in the only gold rush in north Texas history. Add in modern-day cattle rustlers and murderers, and Center Springs is once again the bull's-eye in a deadly target.
The biological agent deemed benign by the CIA has unexpected repercussions, putting Pepper's near twin cousin, Top, at death's door. The boy's crisis sends their grandfather, Constable Ned Parker, to Washington D.C. to exact personal justice in our nation's capital, joined by a man Ned left behind in Mexico and had presumed dead. The CIA agents who operate on the dark side of the U.S. government find they're no match for men who know they're right and won't stop. Especially two old country boys raised on shotguns.
But there's more. Lots more. Top Parker thought only he had what had become known as a Poisoned Gift, but Ned suffers his own form of a family curse he must deploy. Plus there are many trails to follow as the lawmen desperately work to put an end to murder and government experimentation that extends from their tiny Texas town to Austin and, ultimately, to Washington, D.C. Traitors, cattle rustlers, murderers, rural crime families, grave robbers, CIA turncoats, and gold-hungry prospectors pursue agendas that all, in a sense, revolve around the center of this little vortex called Center Springs.
Gold Dust seems to be fiction, but the truth is, it has already happened.
"Center Springs must deal with everything from cattle rustlers to a biological agent that the CIA said was safe, but were wrong, and a real fight between the government and those who actually know what the term 'gunslinger' means. Murder is everywhere and readers will never forget this Poisoned Gift once they see it in action. Wortham has created yet another Red River Mystery that hits home in a big way, making all the more terrifying."
—Suspense Magazine
"Richly enjoyable… reads like a stranger-than-strange collaboration between Lee Child, handling the assault on the CIA with baleful directness, and Steven F. Havill, genially reporting on the regulars back home."
—Kirkus Reviews
"It's a pleasure to watch [Constable Ned Parker and Texas Ranger Tom Bell] deal with orneriness as well as just plain evil. Readers nostalgic for this period will find plenty to like."
—Publishers Weekly
"Reading the seventh Red River Mystery is like coming home after a vacation: we're reuniting with old friends, and returning to a comfortable place. Wortham's writing style is easygoing, relying on natural-sounding dialogue and vivid descriptions to give us the feeling that this story could well have taken place. Another fine entry in a mystery series that deserves more attention."
—Booklist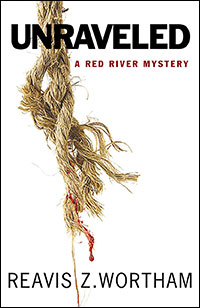 Unraveled (2016, Poisoned Pen Press)
The small, rural Northeast Texas community of Center Springs has seen its share of troubles during the 1960s, everything from kidnapping, murder, and bank robbery. By 1968, the residents think life has finally quieted down, but they find their peaceful way of life is quickly spinning out of control as a decades-long family feud between the Clays and Mayfields once again flares to life.
Fourteen-year-old Top Parker, who lives with his grandparents Constable Ned Parker and Miss Becky in a little farmhouse near the Red River, finds himself caught up in another adult situation sparked by a mysterious fatal single car accident involving the white mayor of Chisum and his black female assistant. Questions and accusations arise about their relationship as the families wreak vengeance on each other.
But what is the significance of a man calling himself the Wraith, who moves through region at will, invading homes and watching the Parkers? What is Maggie Clay's secret? That she's half white and married to a black man with a long criminal past? And was Mayor Frank Clay, the only bright spot in a dark and cruel family, really what everything thinks he is?
It's a busy time for Sheriff Cody Parker, who finds himself a possible suspect in the murder of several residents. He takes the advice from his Deputy John Washington and removes himself from the investigation, giving free reign to both John and Deputy Anna Sloan as they try and unravel the answers by following different paths.
"The more I read of Reavis Wortham's books, the more impressed I am by his abilities as a writer… His understanding of family feuds, how they start and how they hang on long past their expiration date, is vital to the story line. Wortham's skill as a plotter is demonstrated as well. He's very good at what he does, and his books are well worth reading."
—Reviewing the Evidence
"This superbly drawn sixth entry in the series features captivating characters and an authentic Texas twang."
—Library Journal
"Not only does Wortham write exceptionally well, but he somehow manages to infuse Unraveled with a Southern gothic feel what would make even William Faulkner proud… A hidden gem of a book that reads like Craig Johnson's Longmire mysteries on steroids."
—Providence Journal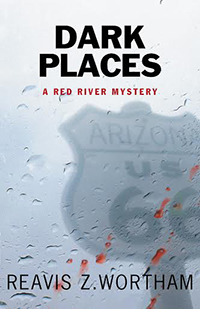 Dark Places (2015, Poisoned Pen Press)
At the tail end of 1967, the Parker family once again finds it's impossible to hide from a world spinning out of control. On the Red River in Center Springs, Texas, fourteen-year-old Top still can't fit in with their rural community, or forget recent, vicious crimes. His near-twin cousin, Pepper, desperate escape her own demons, rashly joins the Flower Children flocking to California while…
…at the same time, two businessmen are kidnapped and murdered in the Red River bottoms on the same night as a deadly hit and run kills a local farmer. Constable Ned Parker wonders if these crimes are connected, but he goes after Pepper, leaving the investigation in the hands of Sheriff Cody Parker who…
…hires a Deputy Anna Sloan, an investigator with an eye toward detail, but it seems that everyone in town is eyeing her. Yet it's instinct that propels her after killers through a world nearly forgotten, in a backdrop of continuous rain, gloomy skies, and floods. When she's ambushed, the investigation accelerates into gunfire, chases, and hair-raising suspense. Meantime…
…what of Pepper? Out on Route 66 to California, the Mother Road to California, a man named Crow isn't what he seems. Lies, deceptions, and a band of outlaw motorcyclists  proves to the Parkers that no matter where you turn, no matter what you do, the world is full of such darkness that even grandmothers are capable of unspeakable deeds.
"Readers will cheer for and ache with the good folks, and secondary characters hold their own… The novel's short chapters fit both the fast pace and the deftly spare actions and details… the rhythm of Wortham's writing, transporting us back in time, soon takes hold and is well worth the reader's efforts."
—Historical Novel Society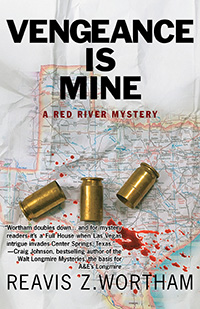 Vengeance Is Mine (2014, Poisoned Pen Press)
In October of 1967, The Summer of Love is history, rock and roll is dark and revolutionary, and people in the small east Texas community of Center Springs simply want to live their lives as quietly as possible. But a handsome darkness in the form of Las Vegas gangster Anthony Agrioli has left the business to hide out in the tiny backwater settlement with his blond bombshell girlfriend.
Two years earlier, Agrioli met newlyweds Cody and Norma Faye Parker in a Vegas casino and heard their enthusiastic descriptions of the perfect place to settle down and raise a family. At least it was perfect, before their peaceful world found itself directly in the crosshairs of a coming confrontation.
Back in Center Springs, thirteen-year-old Top Parker has what his grandmother, Miss Becky, calls a Poisoned Gift. His dreams, though random and disconnected, always seem to come true. This time Top dreams he's a wagon hub with spokes converging from all directions. To him, the spokes symbolize that something is coming, but he doesn't know their quiet community will soon be a combat zone when the gangsters arrive, but they're after something else and not Agrioli… yet.
A sheriff crooked as a dog's hind leg, an unsolved murder in the river bottoms, counterfeit money and a bank robbery all wrapped in a country Shakespearian comedy once again brings together Constable Ned Parker, Constable Cody Parker, Deputy John Washington, Judge O.C. Rains, and the rest of Wortham's real and sometimes wacky cast of characters.
"Wortham is a masterful and entertaining storyteller. Set in East Texas in 1967, Vengeance is Mine is equal parts Joe R. Lansdale and Harper Lee, with a touch of Elmore Leonard."
—Ellery Queen's Mystery Magazine
"Very entertaining… Those who have read the author's earlier books, including The Right Side of Wrong (2013), will be familiar with Center Springs and its rather unusual denizens, but knowledge of those earlier volumes is not required. This is a fully self-contained story, and it's a real corker."
—Booklist (starred review)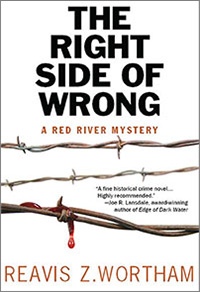 The Right Side of Wrong (2013, Poisoned Pen Press)
Burrows ended as 1965 drew to a close with Constable Cody Parker's frightening precognition of gathering storm clouds for the tight-knit Parker family from Center Springs, Texas. The dreams proved accurate. Cody is ambushed and nearly killed on a lonely country road during an unusually heavy snowfall. With that attack, the locals begin to worry that The Skinner, from The Rock Hole, has returned.
Constable Ned Parker struggles to connect a seemingly unrelated series of murders as his nephew recovers. As the summer of 1966 approaches, rock and roll evolves to reflect the increasing unrest in this country, and the people of northeast Texas wonder why their once peaceful community has suddenly become a dangerous place to live.
Ned's pre-teen grandchildren, Top and Pepper, are underfoot at every turn. The two lawmen, along with the deputy John Washington, cross paths with many colorful characters originally introduced in Wortham's acclaimed Red River series: cranky old Judge O.C. Rains, the jittery little farmer Isaac Reader, and the Wilson boys Ty Cobb and Jimmy Foxx.
And then there's the arrival of the mysterious tough old man named Tom Bell.
When Cody follows his main suspect across the Rio Grande and into Mexico, Ned understands that to save his nephew, he will have to cross more than a river, he will have to cross over to the Right Side of Wrong.
Humor, suspense, horror, precognition, and life in the tumultuous 60s are examined with an unflinching eye by the author of the Red River series.
"A sleeper that deserves wider attention."
—The New York Times
"Wortham's third entry in his addictive Texas procedural set in the 1960s is a deceptively meandering tale of family and country life bookended by a dramatic opening and conclusion. C.J. Box fans would like this title."
—The Library Journal (starred review)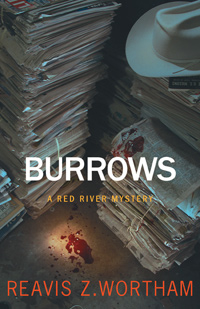 Burrows (2012, Poisoned Pen Press)
Lyndon B. Johnson is President, Beatlemania is in overdrive and gasoline costs 30 cents a gallon when Ned Parker retires as constable in Center Springs, Texas. But his plan to live a quiet life as a cotton farmer is torpedoed. A phone call leads Ned to a body in the Red River and into the urgent investigation headed by his nephew, the newly elected constable Cody Parker. Together they work to head off a multi-state killing spree that sets northeast Texas on fire.
As the weeks pass, Ned's grandchildren, ten-year-old Top and his tomboy cousin Pepper, struggle with personal issues resulting from their traumatic experiences at the Rock Hole only months before. They now find themselves in the middle of a nightmare for which no one can prepare.
Cody and Deputy John Washington, the law south of the tracks, follow a lead from their small community to the long abandoned Cotton Exchange warehouse in Chisum. Stunned, they find the Exchange packed full of the town's cast off garbage and riddled with booby-trapped passageways and dark burrows. Despite Ned's warnings, Cody enters the building and finds himself relying on his recent military experiences to save both himself and Big John. Unfortunately, the trail doesn't end there and the killing spree continues…
"I am often sent books for review or blurb, and I no longer allow many to come my way, as they stack up. Now and then if someone wants to send one with the understanding I may or may not get to it, or if I do, may not like, or if like, I may not comment, then that is another thing altogether. But, in going through my pile I came across Burrows, by Reavis Z. Wortham, and let me tell you, it is fine. It's a historical crime novel, if the sixties is historical to you. For me, not that long ago, at least in mind. But highly recommended."
—Joe Lansdale, author of The Edge of Dark Water
"Wortham's outstanding sequel to The Rock Hole (2011)… combines the gonzo sensibility of Joe R. Lansdale and the elegiac mood of To Kill a Mockingbird to strike just the right balance between childhood innocence and adult horror."
—Publishers Weekly (starred review)
"The cinematic characters have substance and a pulse. They walk off the page and talk Texas."
—The Dallas Morning News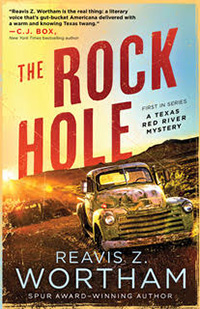 The Rock Hole (2011, Poisoned Pen Press)
In 1964, farmer and part-time Constable Ned Parker combine forces with John Washington, the almost mythical black deputy sheriff from nearby Paris, to track down a disturbed individual who is rapidly becoming a threat to the entire small Texas community of Center Springs.
When Ned is summoned to a hot cornfield one morning to examine the remains of a tortured bird dog, he finds a dark presence in their quiet community. A farmer by trade, Ned is usually confident when it comes to handling moonshiners, drunks and domestic disputes. But the animal atrocities turn to murder, and the investigation spins beyond his abilities.
After a dizzying series of twists, eccentric characters and dead-ends, Ned's friend, cranky Judge O.C. Rains, is forced to contact the FBI. Worse, sinister warnings that his family has been targeted by the killer lead Ned to the startling discovery that he knows the murderer very well. After the failed abduction of his precocious grandchildren Top and Pepper, the old lawman becomes judge and jury to end the murder spree in the Red River bottomlands.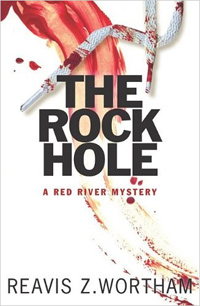 With a heart-pounding pace, country humor and a stunning climax speaks to the darkness in us all. In bald-headed pot-bellied Ned Parker, Wortham has created an authentic American hero who will put you in mind of the best heroes and antiheroes you've ever experienced.
The year 1964 was the end of an era in Center Springs, and the climax may well shock your civilized sensibilities.
Chosen by Kirkus as one of the 12 best novels of 2011! "An accomplished first novel about life and murder in a small Texas town… Wortham tells a story of grace under pressure, of what happens when a deranged and vicious predator decides that they're his promised prey… a fast and furious climax, written to the hilt, harrowing in its unpredictability. Not just scary but funny too, as Wortham nails time and place in a sure-handed, captivating way. There's a lot of good stuff in this unpretentious gem. Don't miss it."
—Kirkus Reviews
"Throughout, scenes of hunting, farming, and family life sizzle with detail and immediacy. The dialog is spicy with country humor and color, and Wortham knows how to keep his story moving. The Rock Hole is an unnerving but fascinating read."
—Historical Novels Review
Watch the book trailer: