2012 (Poisoned Pen Press)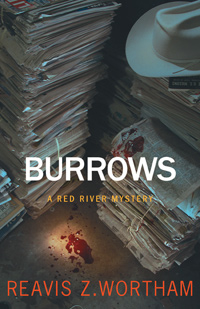 Lyndon B. Johnson is President, Beatlemania is in overdrive and gasoline costs 30 cents a gallon when Ned Parker retires as constable in Center Springs, Texas. But his plan to live a quiet life as a cotton farmer is torpedoed. A phone call leads Ned to a body in the Red River and into the urgent investigation headed by his nephew, the newly elected constable Cody Parker. Together they work to head off a multi-state killing spree that sets northeast Texas on fire.
As the weeks pass, Ned's grandchildren, ten-year-old Top and his tomboy cousin Pepper, struggle with personal issues resulting from their traumatic experiences at the Rock Hole only months before. They now find themselves in the middle of a nightmare for which no one can prepare.
Cody and Deputy John Washington, the law south of the tracks, follow a lead from their small community to the long abandoned Cotton Exchange warehouse in Chisum. Stunned, they find the Exchange packed full of the town's cast off garbage and riddled with booby-trapped passageways and dark burrows. Despite Ned's warnings, Cody enters the building and finds himself relying on his recent military experiences to save both himself and Big John. Unfortunately, the trail doesn't end there and the killing spree continues…
"I am often sent books for review or blurb, and I no longer allow many to come my way, as they stack up. Now and then if someone wants to send one with the understanding I may or may not get to it, or if I do, may not like, or if like, I may not comment, then that is another thing altogether. But, in going through my pile I came across Burrows, by Reavis Z. Wortham, and let me tell you, it is fine. It's a historical crime novel, if the sixties is historical to you. For me, not that long ago, at least in mind. But highly recommended."
—Joe Lansdale, author of The Edge of Dark Water
"Wortham's outstanding sequel to The Rock Hole (2011)… combines the gonzo sensibility of Joe R. Lansdale and the elegiac mood of To Kill a Mockingbird to strike just the right balance between childhood innocence and adult horror."
—Publishers Weekly (starred review)
"The cinematic characters have substance and a pulse. They walk off the page and talk Texas."
—The Dallas Morning News
Amazon Apple Books Audible Barnes & Noble Books A Million BookPeople Bookshop.org The Poisoned Pen